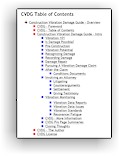 This page has a hyperlinked listing of all the pages available online or by purchase of the CVDG Pro through the Vibrationdamage.com site. You can go from here to any other online page on the site in one click! Note that the pages listed below which are solely found in the CVDG Professional Edition (those from Damage Prevalence down through Cited Literature, plus a few pages higher in the list) are not available online ; clicking on them will take you to our 404 Error page. The nearly 300 page Pro version (over 3 times the content) can be purchased through our Order the CVDG Pro page.
This page is complementary to the Vibrationdamage.com Document Index, which provide a hyperlinked list of all the documents available on the site, classified by topic and interest area. Use it, along with the keyword search, available on every page on the site, to find specific documents of interest to you.
---
Disclaimer: The pages, documents, illustrations and tools on Vibrationdamage.com are not offered, and should not be considered, as advice or counsel on the law in any jurisdiction or form. Seek the advice of an attorney having construction vibration damage claim experience and knowledge, if you need legal help. Trademarks appearing on the site and in the CVDG are the properties of their respective owners and are used in the CVDG only for the purpose of identification. Information appearing on the site and in the CVDG is believed correct, but the site contents and the CVDG are provided "as-is". They are not guaranteed or warranted in any way, nor are your uses of them warranted or guaranteed.
---