Construction Vibration Damage Guide (CVDG) for Homeowners
Table of Contents
You'll find the hyperlinked Table of Contents for the free CVDG for Homeowners just below. You can use it to navigate all the CVDG pages. The CVDG does not specifically cover vibration damage from machine tools in factory settings or health effects of vibration.
The CVDG Professional Edition includes nearly triple the amount of, and slightly more technical, content for businesses and individuals, particularly those directly involved with or having vibration damage claims. Its Table of Contents, http://vibrationdamage.com/cvdg_pro_table_of_contents.htm, gives a full listing of the much larger range of chapter topics in it. The CVDG Pro is available for same day purchase through PayPal, credit or debit card from http://vibrationdamage.com/order_the_cvdg_pro.htm.
---
Disclaimer: The pages and documents on Vibrationdamage.com are not offered, and should not be considered, as advice or counsel on the law in any jurisdiction or form. Seek the advice of an attorney having construction vibration damage claim experience and knowledge, if you need legal help. Trademarks appearing on the site and in the CVDG are the properties of their respective owners and are used in the CVDG only for the purpose of identification. Information appearing on the site and in the CVDG is believed correct, but the site and the CVDG are provided "as-is". They are not guaranteed or warranted in any way, nor are your uses of them warranted or guaranteed.
---
Free CVDG Table of Contents
Documents new to the current edition of the CVDG and CVDG Pro PDF's are indicated with italicized (New) designations below. Those which are so new that they have not been included in the PDF's are shown in italicized bold, (New). Links are provided when the newest documents can be read online. Every document is upgraded in each new PDF edition.
---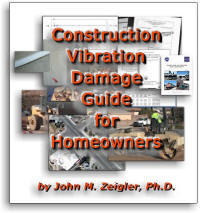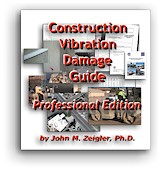 This is a chapter from the Construction Vibration Damage Guide for Homeowners (CVDG), a 100+ page free document with over 200 color photos, diagrams and other illustrations. It is available at http://vibrationdamage.com as a series of web pages or in full, web navigation and ad-free, as a downloadable PDF document, with additional content not available on the web. The free version of the CVDG is licensed to homeowners and others for personal, at-home use only. A Professional Edition (CVDG Pro), licensed for business use and with over three times as much content, can be ordered from our Order the CVDG Pro page, usually with same-day delivery. You can comment about this page or ask questions of Dr. Zeigler by using our Visitor Comment form. If you would like to discuss vibration damage issues and view additional content not found in the CVDG, Join us on Facebook. Please Like us while you're there.