Comments and Questions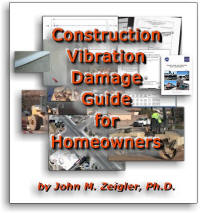 Use the form below to send your comments and questions about the CVDG or Vibrationdamage.com.
---
Disclaimer: The pages and documents on Vibrationdamage.com are not offered, and should not be considered, as advice or counsel on the law in any jurisdiction or form. Seek the advice of an attorney having construction vibration damage claim experience and knowledge, if you need legal help. Trademarks appearing on the site and in the CVDG are the properties of their respective owners and are used in the CVDG only for the purpose of identification. Information appearing on the site and in the CVDG is believed correct, but the site and the CVDG are provided "as-is". They are not guaranteed or warranted in any way, nor are your uses of them warranted or guaranteed.
---
Please note that misuse of this HTML form and its associated CGI scripts for commercial purposes (spam, ads, promotions) is a felony violation of U.S. law (the CANSPAM Act).
Fill out all the fields in the form below to submit a comment or question. Once you have successfully filled in this form and submitted it, you should see an immediate confirmation web page indicating successful submission of the form.