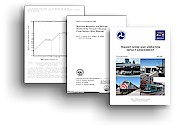 The Internet has an immense amount of information for people who may be pursuing a vibration damage claim on their home, perhaps resulting from construction, blasting or many other vibration sources. Much of this information is available free in downloadable PDF format; you will need a copy of the free Adobe Reader to view or print PDF files. Following are some starting links to a few of the most valuable ones:
Transit Noise and Vibration Impact Assessment, even though it is mostly referred to in the manner I've shown here.
This short list is far from exhaustive, as there are literally hundreds of relevant documents available, but these are good starting points in understanding construction vibration damage issues. Other useful references are cited in the CVDG's footnotes. A listing of all of the documents cited in the CVDG and CVDG Pro can be found on the CVDG Pro's Cited Literature page.
---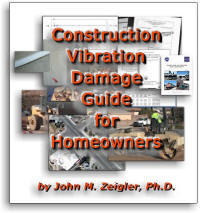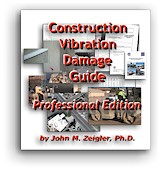 This page is a chapter from the Construction Vibration Damage Guide for Homeowners (CVDG), a 100+ page free document with over 200 color photos, diagrams and other illustrations. It is available at http://vibrationdamage.com as a series of web pages or in full, web navigation and ad-free, as a downloadable PDF document, with additional content not available on the web. The free version of the CVDG is licensed to homeowners and others for personal, at-home use only. A Professional Edition (CVDG Pro), licensed for business use and with over three times as much content, can be ordered from our Order the CVDG Pro page, usually with same-day delivery. You can comment about this page or ask questions by using our Visitor Comment form. If you would like to discuss vibration damage issues, join us on Facebook.