Construction Vibration Damage Guide for Homeowners
The free 116 page Construction Vibration Damage Guide for Homeowners (a $49.95 value, CVDG, ©Copyright 2013-2017 John M. Zeigler) PDF version is a printable compilation of our construction vibration damage web pages, minus menus, navigation and ads from the web page version, with much added material not available on the web. It has over 200 photos, diagrams and other illustrations which help the reader understand the issues discussed in it.
You will need a copy of the free Adobe Reader, or any other program capable of reading and displaying PDF files, to view or print the PDF version. The CVDG PDF can be read directly on most dedicated e-readers and mobile devices, as well as computers. For more information and help on using the CVDG with e-readers, see our CVDG on e-Readers page.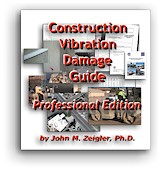 A Professional Edition, with well over twice the pages of the Homeowners edition for those who need greater scientific understanding for litigation, research or consulting, can be purchased from the site by PayPal account or with a credit card.
The Download link above will take you to a short form. The information you submit on the form is used for improvement of the CVDG and the site. It is not used to generate spam nor is it provided to others (see Information Security for more). Once you fill out that form (1-2 minutes) and submit it, a confirmation of successful submission will appear in your browser. An e-mail with the direct download link will be sent to the address you provide on the form, usually within a couple minutes of the form submission.
The download link may only be active for 24 hours. To download the CVDG, just click on the link in the e-mail. If, for some reason, that doesn't work, copy the link to the address line of your browser and press enter. The CVDG is regularly expanded and updated, so visitors should check for updated versions occasionally.