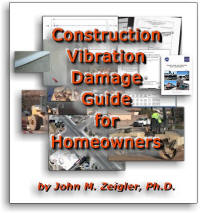 Construction Vibration Damage Guide for Homeowners (CVDG)
Construction damage, usually due to vibration caused by the misuse of heavy equipment, occurs much more often than those in that industry will usually admit. The typical homeowner lacks the knowledge and documentation to pursue a legitimate claim against construction firms and their insurance companies. By following this link, you find out about how to pursue a construction vibration damage claim, even if you don't wish to litigate it. The Guide also has extensive information about how to prepare for proposed construction in your area to prevent damage before it happens. In addition to reading the pages in HTML on the site, you can get a full PDF version, minus ads and navigation, of the 100+ page Guide from our Downloads page.
---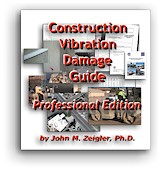 Construction Vibration Damage Guide, Professional Edition (CVDG Pro)
The CVDG Pro is a comprehensive version of the CVDG, 270 pages in length, with much added technical content for attorneys, contractors, and others with an interest in a deeper understanding of vibration damage claims. It is licensed for use in businesses, as well as for home use, while the free version for homeowners is not licensed for business use. The CVDG Pro is not available for download online, but can be ordered from our Order page.
---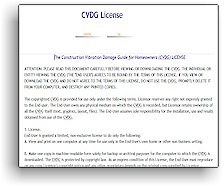 License for Free Use of the CVDG for Homeowners
The terms and conditions governing free use of the CVDG by individuals in non-business settings.
---
License for the CVDG Professional Edition
The terms and conditions governing use of the CVDG Professional Edition for business and home use.