Construction Vibration Damage Guide (CVDG) for Homeowners Download and Registration Form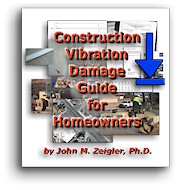 Homeowners can get the complete CVDG PDF version (a $49.95 value; new version 3.1, 116 pages, 5.5 Mb PDF file) by free download for personal, at-home, non-business use. It contains over 30 additional pages of information not available online.
Since we lose ad income every time we provide the downloadable CVDG PDF, please help us make the CVDG better and more useful by filling in the short form below (1-2 minutes to complete). You can include comments about Vibrationdamage.com or the CVDG on this form or go to our Visitor Comment form to add them there.
---
Misuse of this HTML form and its associated CGI scripts for commercial purposes (spam, ads, promotions) is a felony violation of U.S. law (the CANSPAM Act).
The information you submit is used for CVDG improvement and research; no personally identifiable information is shared with others. When you submit this form, you will receive no other email from us beyond the download link. We may provide a short reply to any comment or help request you leave with the form information, where appropriate. More on how we protect and use submitted information