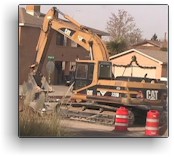 If you have construction, e.g. road work or development, starting within 50 feet of your home, there are some things it would be wise to do to protect yourself and your investment in your home. This is especially true if the construction company and/or the project sponsor have a record of causing construction damage on past projects. Depending on the type of work, the way it is being done and how vibrations propagate in your locale, there may be reason for concern for any construction close enough to hear.
Following is a short list, in approximate chronological order, of what you need to do, abstracted and highly condensed from the content of the free Construction Vibration Damage Guide for Homeowners (CVDG free), http://vibrationdamage.com/download.htm. The links below point to the original CVDG chapters which discuss the topics mentioned in greater detail. The sooner you start these steps, the more protection you will have in an occurrence of damage:
Document the condition of your home by photo or video, prior to construction start or as soon after construction start as possible. Pay particular attention to locations where damage is most common: corners of window and door penetrations, attached concrete slabs, and door frames. If, at the same time, you document the contents of the home, you can also use the images for insurance purposes in the event of an unrelated loss.
Find out all you can about the construction from any public web sites which have relevant information. Print everything you find. Attend any public meetings prior to construction start.
Prepare to document construction by photo or video. If you have security cameras, you can add or redirect one or more to do part of this job, although security footage is not a complete substitute for your own photos or videos. You may also be able to use a neighbor's security footage.
Document the construction as much as you can by video or photos. You can even use a cell phone or tablet computer for this. Pay particular attention to those days when vibratory compaction, demolition, pile driving or blasting may be done. Get photos and/or video of as many pieces of construction equipment in use as you can, making sure you capture the equipment model designations.
Get recordings of the largest vibrations for documentation, using just about any iOS or Android tablet or cell phone having accelerometer sensors, along with free vibration monitoring apps for your device. In the unlikely event that any vibration monitoring is done for the contractor, you may want to get it ultimately.
Check your home occasionally during the construction process for new or expanding cracks and other signs of damage, recording any changes on video or in photos.
Notify the contractor and the project sponsor as soon as possible of any damage which you believe is associated with construction.
Prepare for and conduct damage inspection visits by representatives of the contractor, insurers, project sponsors, etc.
Contact an attorney, if your damage is sufficient and your case documented well enough to justify the cost.
Talk to neighbors about possible damage in their homes. Document that damage with their permission.
Talk with your attorney on an ongoing basis about other steps that you need to take.
More detailed information describing how to carry out these steps can be found in the CVDG PDF, available for free download at http://vibrationdamage.com/download.htm, with comprehensive information in the CVDG Professional Edition at http://vibrationdamage.com/cvdg_pro__overview.htm . It needn't take more than a few hours work to do all the steps above, but it can put you in a far stronger position if you experience damage.
---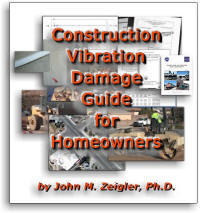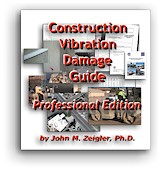 This is a chapter from the Construction Vibration Damage Guide for Homeowners (CVDG), a 100+ page free document with over 200 color photos, diagrams and other illustrations. It is available at http://vibrationdamage.com as a series of web pages or in full, web navigation and ad-free, as a downloadable PDF document, with additional content not available on the web. The free version of the CVDG is licensed to homeowners and others for personal, at-home use only. A Professional Edition (CVDG Pro), licensed for business use and with over three times as much content, can be ordered from our Order the CVDG Pro page, usually with same-day delivery. You can comment about this page or ask questions of Dr. Zeigler by using our Visitor Comment form. If you would like to discuss vibration damage issues and view additional content not found in the CVDG, Join us on Facebook. Please Like us while you're there.